2022 Study in Taiwan Online Survey is open now
2022 Study in Taiwan Online Survey is open now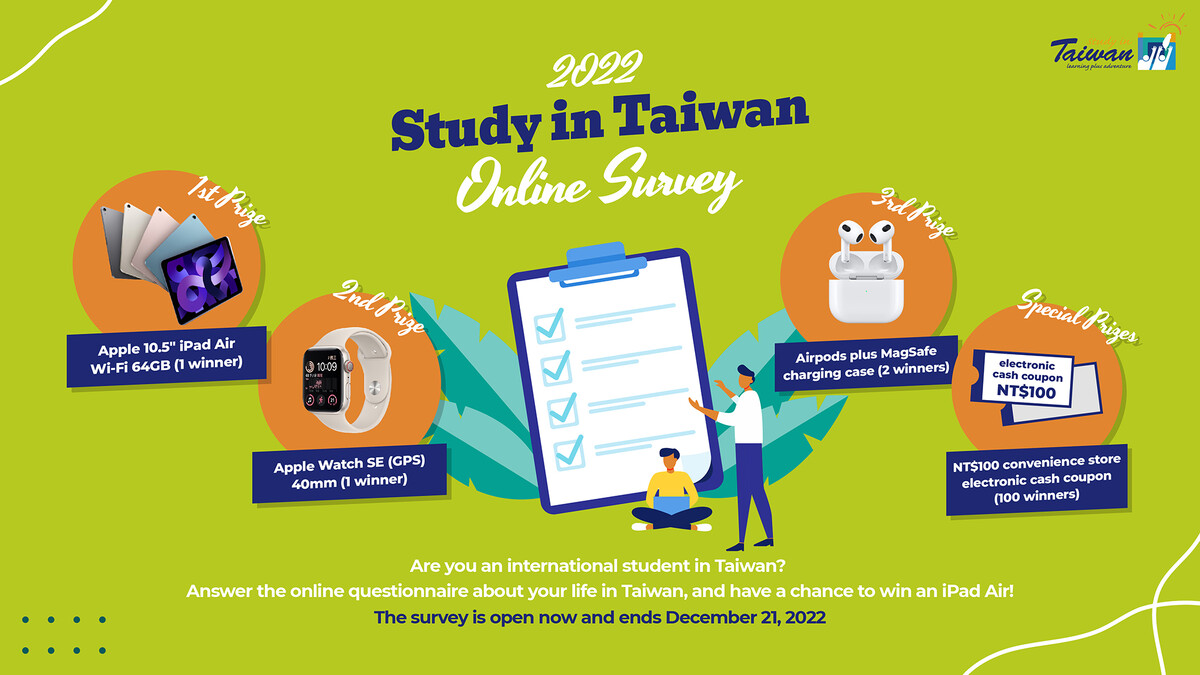 2022-11-28
To better understand the conditions and concerns of overseas students studying in Taiwan, FICHET is launching the "2022 Study in Taiwan Online Survey". To ensure the broadest possible participation, we ask that each college and university encourage their foreign students to fill out the online questionnaire, which will enter them in a drawing to win excellent prizes.
FICHET's "2022 Study in Taiwan Online Survey" invites foreign students at every college and university in Taiwan to fill out the online questionnaire.
Event Notices:

FICHET welcomes the international students who are currently studying in Taiwan, including:

Degree students
Exchange foreign students
Overseas Chinese (including Hong Kong and Macao) students
Students from mainland China
Students of Chinese Language Center
Overseas Youth Vocational Training School students

The survey is open now and ends December 21, 2022.
Online survey: https://2022-study-in-taiwan.web.app
Drawing participation: Overseas students who complete the questionnaire will be eligible for the lucky draw. Winners will be randomly selected. 1st prize is an Apple iPad Air (10.5 inches, WiFi-64GB), while 2nd prize is an Apple Watch SE (GPS 40mm), and two 3rd place winners will each receive a pair of AirPods (including a MagSafe charging case). An additional 100 special prize winners will each receive a NT$100 convenience store gift certificate. Aside from the gift certificates, all prizes are subject to tax withholding.
Prize winners: The winners will be announced on the official FICHET website by December 30, 2022. Winners will be notified and provided a confirmation form which must be completed and returned within 7 days from the date of notification. Failure to return the form by the deadline will result in the prize being voided.
Please refer to the attachment for details. We hope you and your colleagues will encourage your overseas students to participate. Further information and the questionnaire link are available at fichet.org.tw. Contact person: Ms. Lin. Email: szuyu@fichet.org.tw. Phone: 02-2322-2280 ext. 125.