Academic and Research Cooperation (Model)
Forging a True Friendship between National Taiwan University and University of Tsukuba with Mutual Trust and Reciprocal Exchange
Forging a True Friendship between National Taiwan University and University of Tsukuba with Mutual Trust and Reciprocal Exchange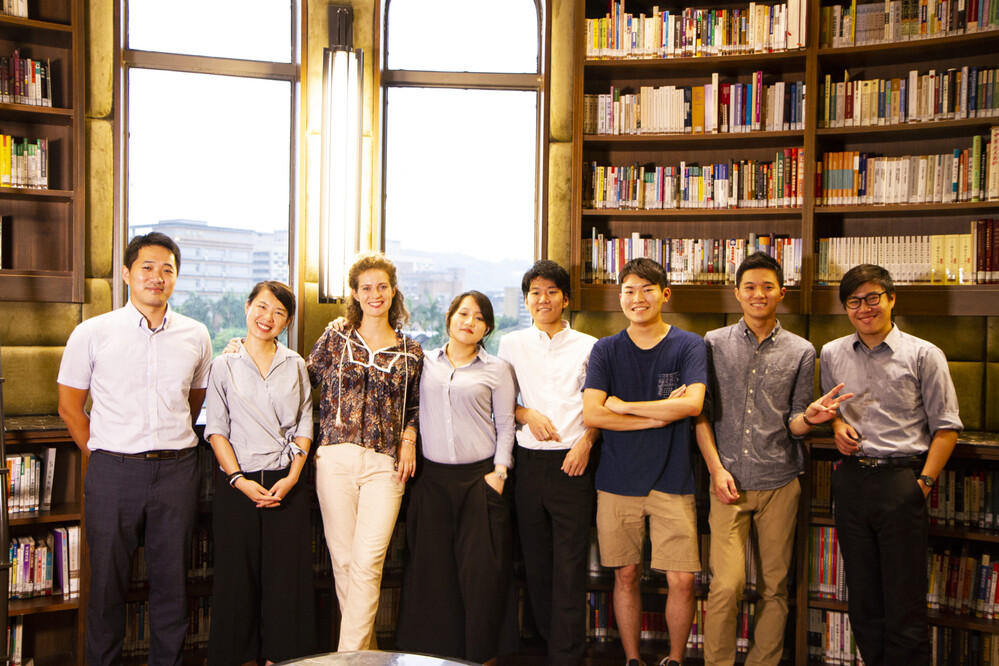 National Taiwan University has organized many academic exchange events since it signed this partnership agreement with University of Tsukuba 11 years ago. In addition to conventional cooperation such as student exchange and double-degree programs, the two universities have collaboratively offered distance education, formed international study groups, opened overseas offices, run the Global Innovation Joint-Degree Program, and administered the Creativity and Entrepreneurship Program, which not only provides rich and diverse content for learning, but also yields fruitful results in many aspects.
Ranked the best educational institution in Taiwan, National Taiwan University (NTU) is certainly a benchmark when it comes to international exchange. Rather than reaping without sowing, this achievement entails considerable and sustained effort. After the signature of the MoU between NTU and University of Tsukuba (UoT) in 1997, it took a decade for the two universities to enter a brand new stage of closer cooperation, which not only shaped fresh pedagogical thinking, but also formulated the avant-garde concept of "Campus-in-Campus" besides double- and triple-degree programs.

Tei-Wei Kuo, the Interim President of NTU, suggested that every top university aiming at incubating talents has to follow a specific roadmap but should not be bound by it. A top university must transcend rigid confines through boundary-breaking and cooperative learning. "Campus-in-Campus" is exactly an innovative approach to attain this objective. It advocates removing the barriers among classrooms, campuses, and even countries. This project poses a real challenge for the higher education system. How can a higher education institution support its teaching without campus or national borders? "These special measures are being taken to cultivate top talents."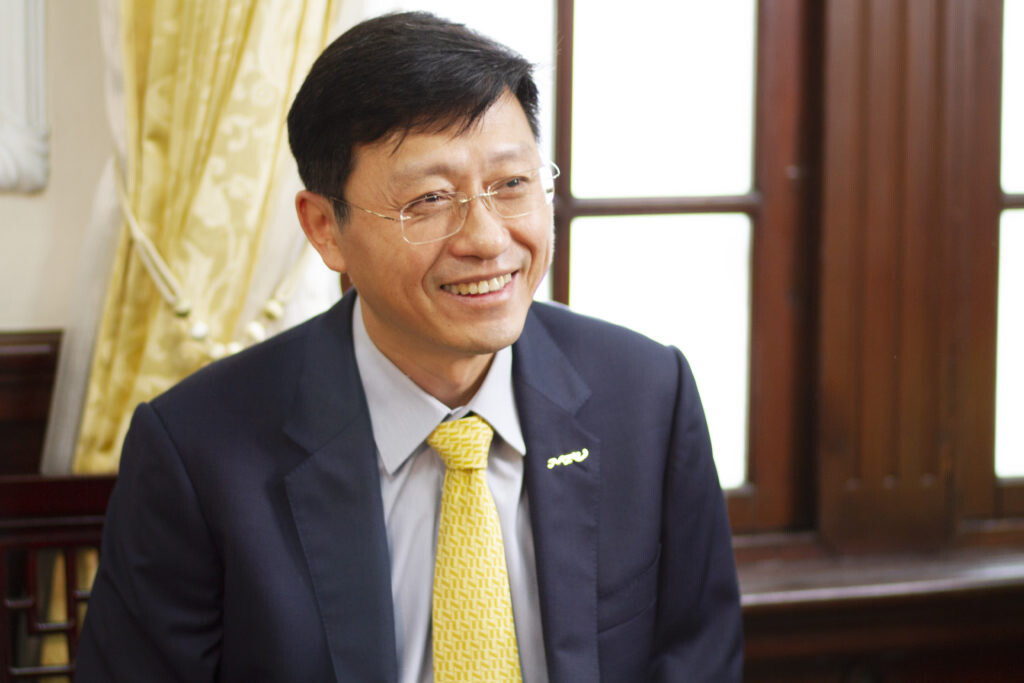 Tei-Wei Kuo, the Interim President of NTU, who believes that the goal of a top university is to incubate talents.
Taiwan's liveliness and Japan's rigor laid a solid foundation for reciprocal exchange.
We must start our discussion from the initial cooperation and exchange between NTU and UoT before addressing "Campus-in-Campus."

Both universities joined the Association of East Asian Research Universities (AEARU) in 1997 and signed a university-level agreement in 2007. In 2009, NTU hosted the AEARU annual meeting, to which UoT sent only one representative, Prof. Yasunori Kanaho. After the meeting, Kanaho told Tsai-Kun Li (who was just promoted to an associate professor at the Center for Biotechnology, NTU) that "Everything TK says is okay" (TK is the abbreviation for Tsai-Kun).

With Kanaho's verbal guarantee, Tsai-Kun Li, as soon as a month after the end of the AEARU annual meeting, invited another associate professor and two assistant professors respectively from entomology, dentistry and medicine departments to join him for the return visit to UoT before Christmas. As an equal treatment, UoT designated four representatives from the Department of Medicine to meet and hold a dialogue with the NTU delegation.

The close cooperation between the two universities was nailed down in this historic bilateral meeting.

Strictly speaking, the four representatives of UoT were relatively senior to their counterparts from NTU. Tsai-Kun Li, now the Associate Dean of the NTU College of Medicine, recalled the meeting at that time. The four representatives of UoT included Kyosuke Nagata (then the general secretary), Yasunori Kanaho, and two upper echelon personnel. Today, Nagata serves as the President of UoT, who is known for his bold, creative and innovative ideas. "Campus-in-Campus" is one of his tour de force. Yasunori Kanaho works as the Vice President of UoT now.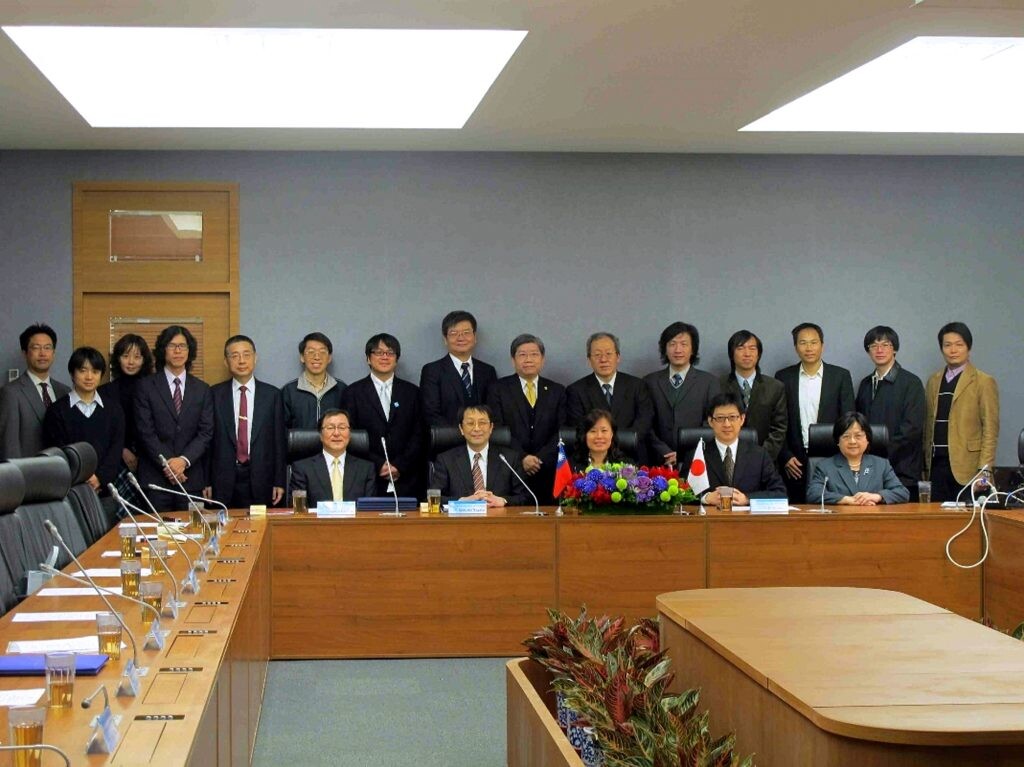 A group photo of the UoT and NTU representatives
Tsai-Kun Li pointed out that there is a clear hierarchy of power in the Japanese educational system, in which professors have the final say while associate and assistant professors are great executors with relatively narrow horizons and limited autonomy. By contrast, the majority of Taiwanese scholars were trained in the American higher education system, which is why they tend to be more active and have a broader vision. In the bilateral meeting, the UoT representatives felt completely surprised by the fact that their counterparts, as associate and assistant professors, were allowed to do things that can only be done under the authority of professors in Japan. "In 2010, we proposed several cooperation projects. The general secretary (i.e. Yasunori Kanaho) of UoT led a 13-professor delegation to Taiwan. For the purpose of equal treatment, we broadened the participation to more colleges, including medicine, bioresources and agriculture, as well as life science."

From double- to triple-degree programs, the array of our reciprocal exchange has been expanding. "The presidents of the partnership universities in Taiwan, Japan and France have met at least three times to discuss the triple-degree program. Setting great store by reciprocal exchange with sister colleges, Pan-Chyr Yang, the President of NTU then, ergo took a highly positive view of these projects and initiated many international exchange programs," so said Luisa Shu-Ying Chang, NTU's Vice President for International Affairs.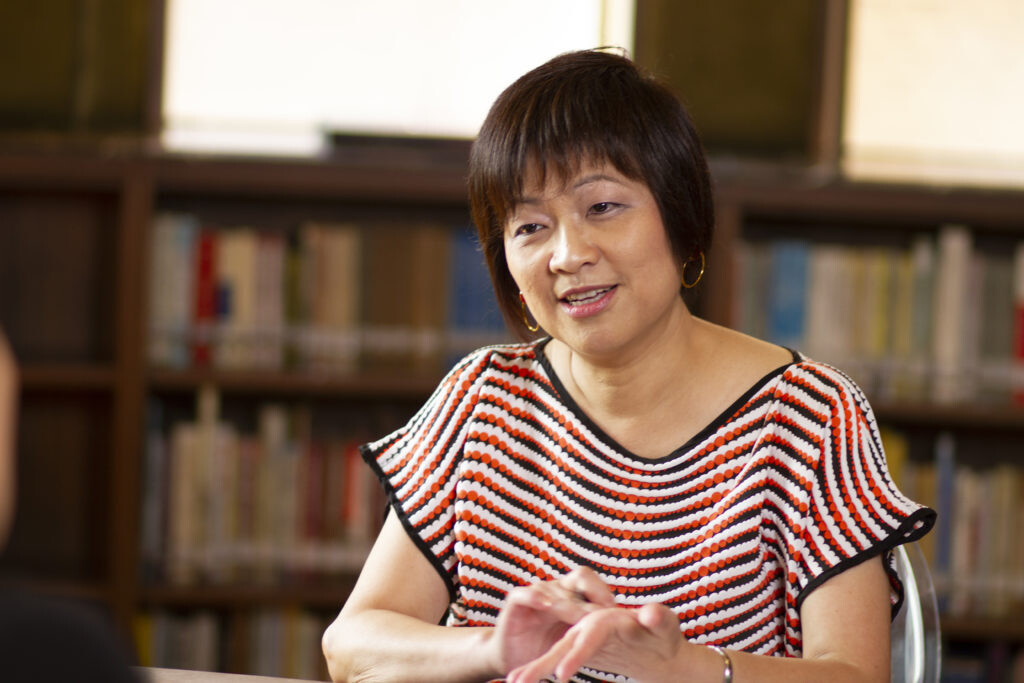 Luisa Shu-Ying Chang, NTU's Vice President for International Affairs
Having clear objectives, UoT actively pursues internationalization and treats it as the only way to rank among the top universities in Japan.
Tokyo Higher Normal School (founded in 1872 and renamed Tokyo University of Education in 1949) was the forerunner of UoT. Following its relocation to the Tsukuba Science Park, it was officially renamed University of Tsukuba. Accordingly, UoT is one of the oldest universities in Japan.

UoT arose as a College of Education, while NTU has been research orientated since Taiwan was under Japanese colonial rule. Each has its own merits and distinguishing features. Tsai-Kun Li mentioned that although UoT is now ranked 9th among the top universities in Japan, it did not include NTU as an important partner in the beginning. "After all, Taiwan was one of Japan's overseas colonies." It was not until several exchanges and meetings between both parties that UoT recognized NTU's strengths and advantages. The consequence has become apparent in the close interaction between the two universities.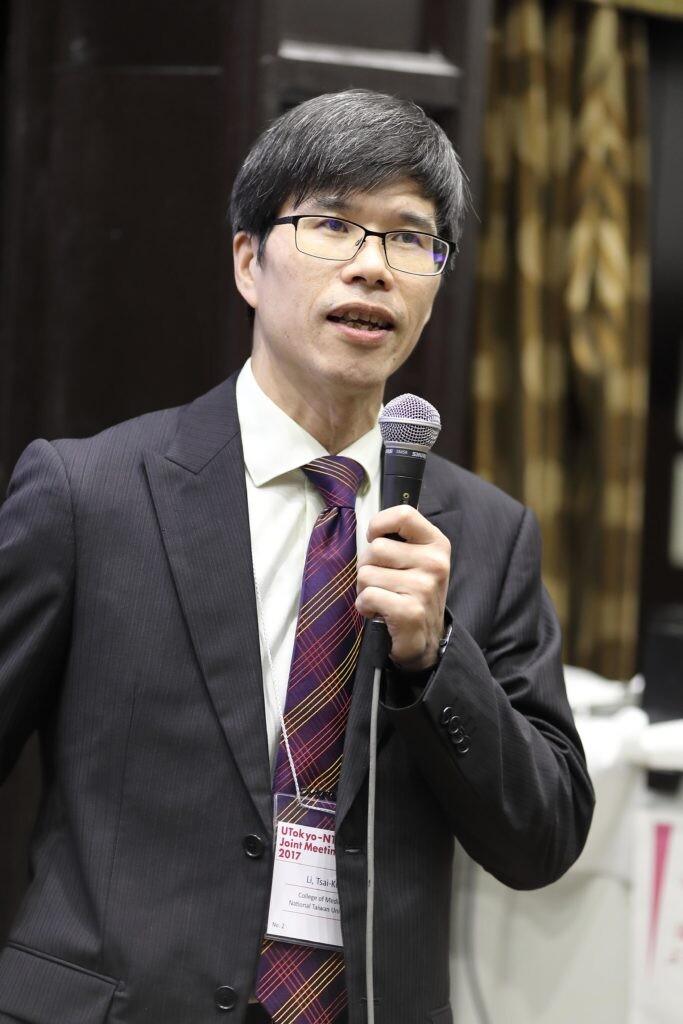 Prof. Tsai-Kun Li, College of Medicine, NTU (courtesy of the Office of Associate Dean, College of Medicine, NTU)
The UoT-NTU close interaction finds perfect expression in the establishment of the UoT Taiwan Office at the NTU campus.UoT knows clearly that it can never be on a par with Imperial Universities simply by means of its in-house expertise. Developing key strength through internationalization is the only way for it to rank among the top universities in Japan. No sooner did Kyosuke Nagata took up office as the President of UoT, than he vigorously enacted several policies on internationalization. In 2015, UoT officially launched the Campus-in-Campus Initiative, inviting NTU as its founding partner. The other partners include University of Bordeaux (France), Technological University of Malaysia, University of São Paulo (Brazil), University of California, Irvine (USA), Utrecht University (the Netherlands), Université Grenoble Alpes (France), and Ohio State University (USA)[SW1] . Establishing professional staff-run offices at the partner universities is one of the main cooperative endeavor under the initiative.

The dispatch of Ryosuke Ohniwa (an associate professor at UoT) as the director of UoT Taiwan Office has entered the third year. He was in contact with NTU through distance education as early as he was pursuing his Ph.D. at Kyoto University. It was at the time that he first made Li's acquaintance. After graduation, he taught at UoT, where he soon became the perfect candidate for the director of UoT Taiwan Office when Nagata assumed the President of UoT and promoted international cooperation.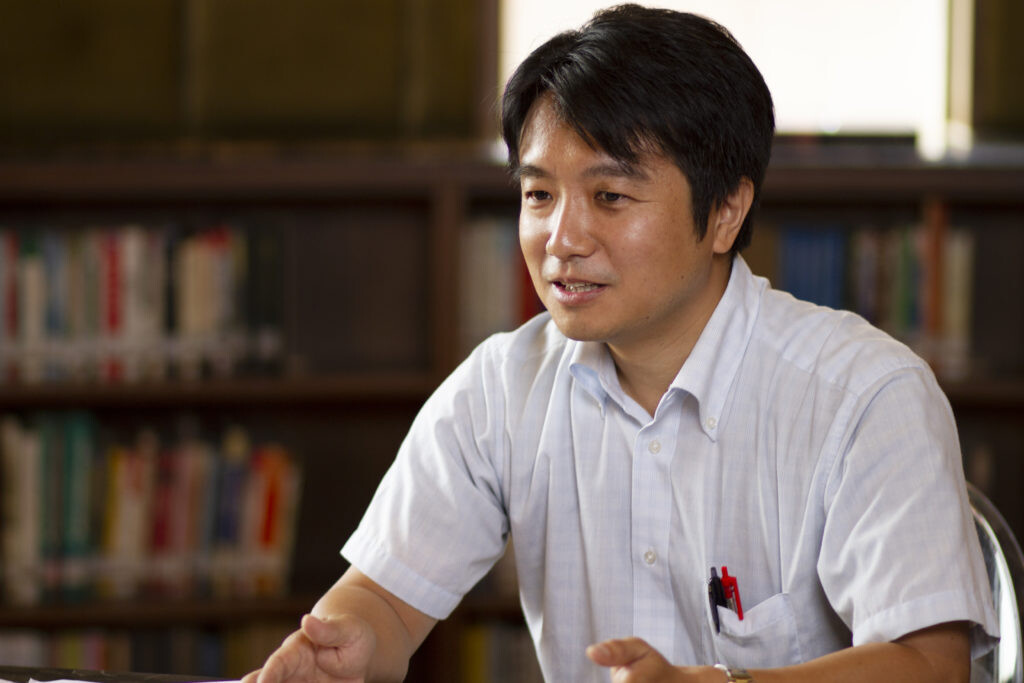 Prof. Ryosuke Ohniwa, the director of UoT Taiwan Office
To Ohniwa's eyes, NTU has brilliant students and Taiwan enjoys a vigorous academic atmosphere. However, Taiwan and Japan are different from each other in terms of culture and values. Taking the regulations on double- and triple-degree programs as examples, he considered the governing regulations in Taiwan as somewhat ambiguous, which makes interpretation critical. Contrarily, the regulations in Japan were made in an explicit fashion. Ohniwa also stated that many Japanese universities fall behind UoT in terms of internationalization. UoT indeed has a more internationalized vision. "UoT is always one of the bellwethers."

This is a verifiable fact. To date, UoT has a total of 13 overseas offices in many countries around the world, including Brazil, the United States, France, Germany, Tunisia, the Middle East, Taiwan, Tajikistan, China, Malaysia, Vietnam, and Indonesia. Each overseas office has at least a staff member or faculty member. Most universities in the world cannot hold a candle to UoT in this aspect.
Besides cultivating talents, NTU has made an endeavor to help Taiwan gain a foothold in the global market for higher education and training.
Layer by layer, NTU has thus woven a robust transnational network through the cooperation with its prestigious partners under this initiative. From the earliest distance education to double- and triple-degree programs, interlaced by online study group, summer school, and the Creativity and Entrepreneurship Program, NTU and UoT have created new opportunities for their students to study on each other's campus.

Yueh-Chien Lin, who is enrolled on the NTU-Tsukuba Double-degree Program as a doctoral student, originally intended to pursue advanced study in the United States. Later, he took several distance learning courses provided by UoT and attended its summer school as well. After balanced assessment, he decided to apply to the NTU-Tsukuba Double-degree Program and study for a doctorate, thereby saving both time and money.

Launched in 2017, the Global Innovation Joint-Degree Program (GIP-TRAID) is a significant breakthrough and an exciting challenge as well.

This triple-degree program features the collaboration among UoT, NTU, and University of Bordeaux (UoB). The participants study at UoT as the first (fall) semester begins in September, then at NTU and UoB successively during the following two semesters. In the fourth (final) semester, the students can choose to serve their internships and pursue their researches in one of the partner universities considered suitable. After earning the required course credits, each of the students needs to conduct postgraduate defense at the university in which he/she is enrolled.

A total of 13 students selected for the first GIP-TRIAD (academic year 2017/2018), three of them from Japan, five from Taiwan, and another five from France. Emilie Gericot, a UoB student who came to Asia for the first time, explained that she chose to be enrolled in the GIP-TRIAD on the grounds of her research interest. She is a travel buff and closely concerned with global food security. In the first academic year, she not only stayed in Japan and Taiwan, but also visited Thailand and the Philippines, from which she learned the humanistic history and culture of Asia that is impossible to be experienced in Europe.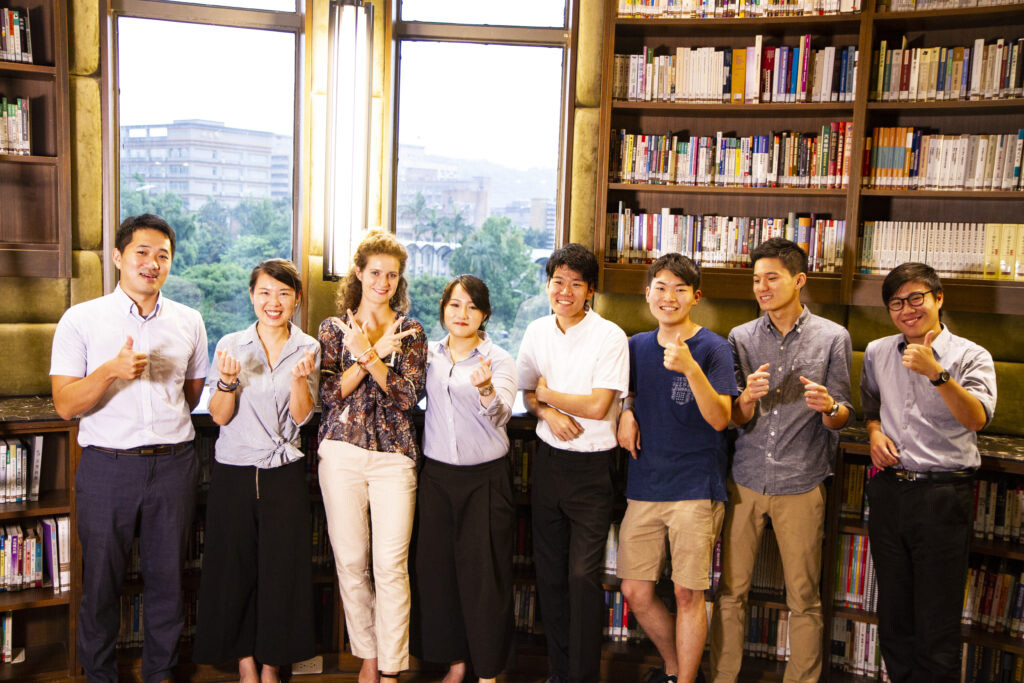 The students enrolled in the first GIP-TRIAD
Li-Yun Lin and Meng-Ting Yu from NTU undertake advanced studies after gaining certain work experience. As far as they are concerned, the GIP-TRIAD involves much more than academic research. The program over the past year also required them to tackle cultural challenges, improve interpersonal communication skills, and enhance personal mobility on a global scale. They consequently believe that this program is particularly suitable for those who want to link their academic training with industries via a worldwide network.

Shu-Jen Wang, a professor in NTU's College of Bioresources and Agriculture, suggested that successful inter-university cooperation, be it student exchange, double- or triple-degree program, is premised on two essential principles; to wit, reciprocity and mutual trust. Reciprocity is the very foundation for sustainable cooperation, which also helps students create value in the exchange process. Mutual trust is the key to solving all the problems occurring among partner universities.

Echoing the talent-incubating policy advocated by NTU's President, which is also a top university's mission, Tsai-Kun Li stated that NTU has made a big effort to establish transnational connections through these programs in the age of globalization, insofar as to cultivate trans-disciplinary talents and highlight Taiwan's competitive strength, so that Taiwan can play an indispensable role in the international society.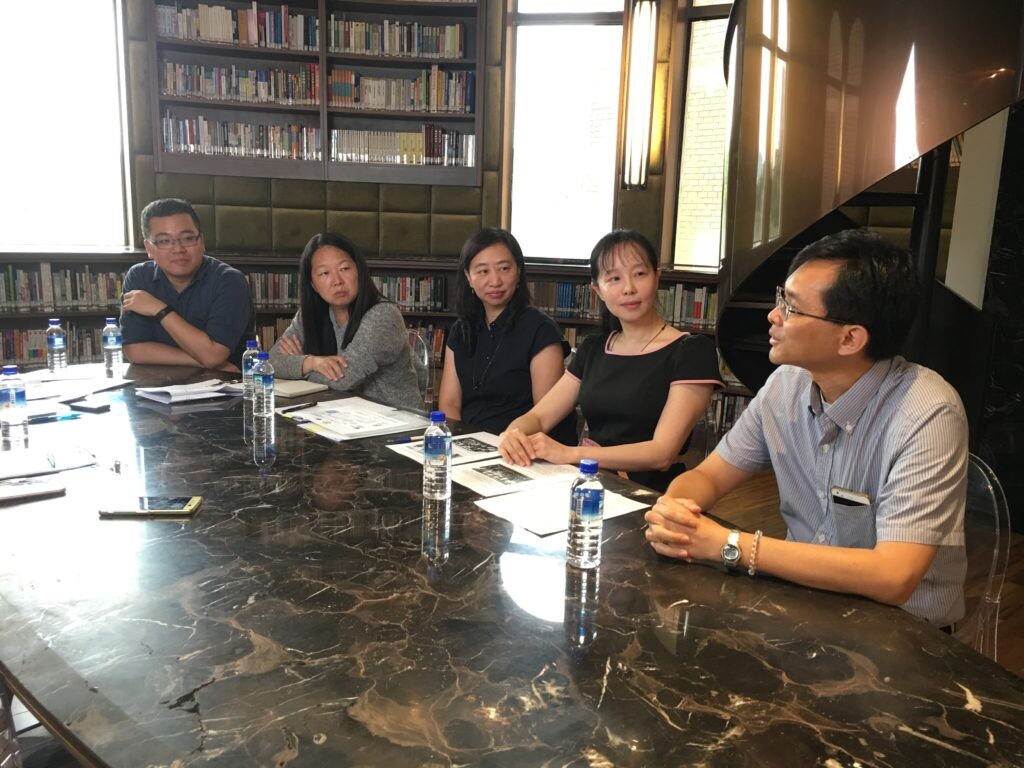 The teaching and administrative staff participated in the exchange between NTU and UoT / from the left: Andrew Chao-Ting Tsung, Chau-Ti Ting, Shu-Jen Wang, Han-Yi E. Chou, and Chien-Mo Li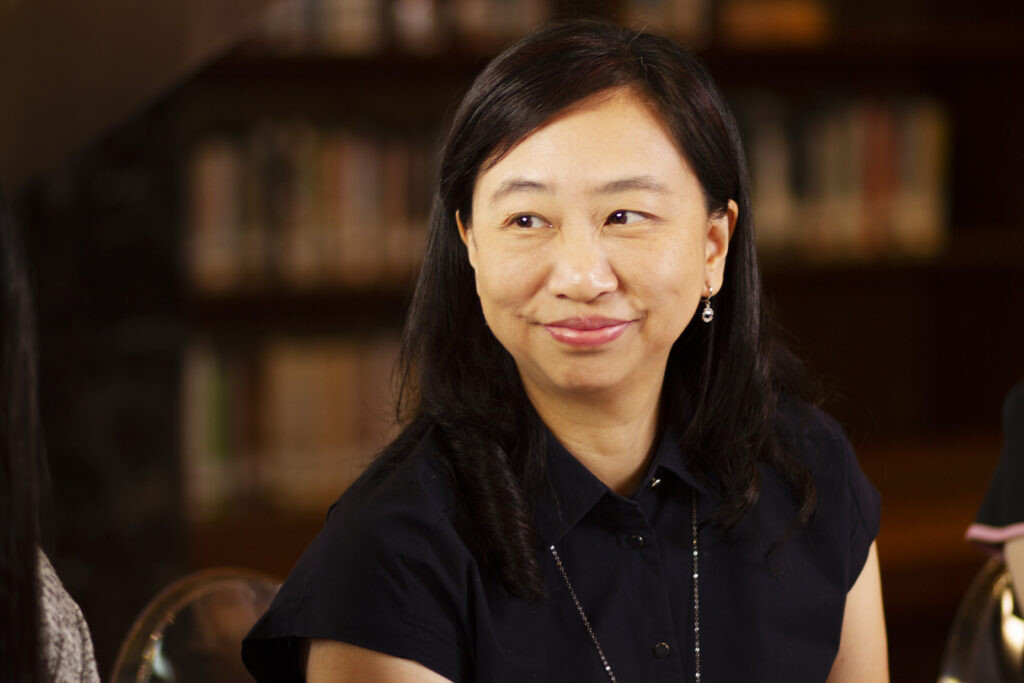 Prof. Shu-Jen Wang, Department of Agronomy, NTU