Academic and Research Cooperation(Case)
National Sun Yat-sen University – Cooperation with Belgian partner universities for dual doctoral degree programs
National Sun Yat-sen University – Cooperation with Belgian partner universities for dual doctoral degree programs
Exchange highlights
Through the dual doctoral degree programs, doctoral students at the Institute of Political Science and the Institute of Education in NSYSU can go to Katholieke Universiteit Leuven (KU Leuven) and Ghent University (UGent) in Belgium to study and receive dual doctoral degrees.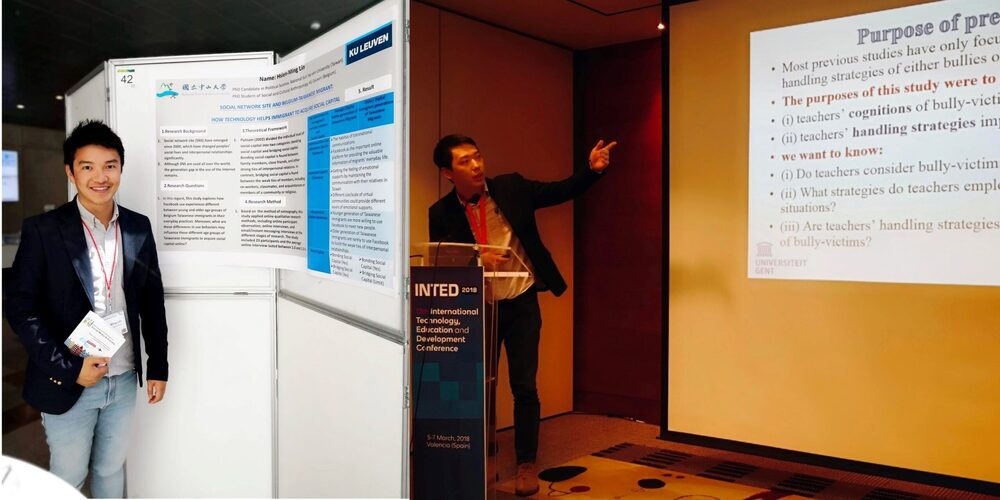 To offer more solid academic training to PhD students, the Institute of Political Science (IPS) established a dual doctoral degree program with the Center for Intercultural, Migrant and Minority Studies (IMMRC) and the Institute for Media Studies (IMS) at KU Leuven in 2017. Under the guidance of supervising professors from NSYSU and KU Leuven, students receive academic training and earn dual doctoral degrees from both universities after completing the requirements. The program takes around five years. Professor Dachi Liao at IPS, who initiated the cooperation, mentioned that the students first spend two years completing all the required courses at NSYSU and achieving the doctoral candidacy, then spend another two years at KU Leuven for further research studies. In the 5th year, they return to NSYSU to work on the dissertation. She said, "Finally, Professors from both sides will form an Examination Committee for the student's oral defense. It's not easy to pass it, but the process would be thrilling and interesting."

Dr. Hsien-Ming Lin, the first graduate of the program, mentioned he encountered many challenges while pursuing the dual degree, which on the other hand, also helped broaden his horizons on international researches. First, the doctoral training between Belgium and Taiwan is quite different. In Taiwan, doctoral students have to take courses first and complete the qualifying exam and the dissertation under the supervising professors' guidance. Along this process, students know specifically what they have to do in each semester. In comparison, in Europe, doctoral students are considered independent researchers who conduct their research on their own with self-discipline. The supervising professors usually offer suggestions and leave the students to decide on course selection and research topics. Due to the difference in doctoral training between the two sides, Lin recalled it took him quite some time to get used to it after he settled down in KU Leuven. He gradually realized this difference brought additional value to his doctoral training. He mentioned as he had acquired much professional knowledge in his research field through the courses taken in Taiwan, he could make the best use of this knowledge while working on his dissertation on his own. "Compared to the doctoral students in Taiwan, I enjoyed greater autonomy while doing my researches, and compared to those only trained in Belgium, I took more courses and better understood how I should conduct my researches."

In addition to the differences in training, the huge differences between the two fields he chose on each side also brought big challenges. At NSYSU, he focused on Political Sciences, while at KU Leuven, he immersed himself in anthropology research. The two fields represent two different views at the two ends of the scale, one for macrocosm and the other microcosm. "There are huge differences between these two fields in research issues, methods and the approaches in article writing," Lin added. It took him much time and effort to gradually learn how to balance the viewpoints and principles and grasp the professional knowledge and research approaches. Through the interdisciplinary and solid training, compared to those pursuing a PhD degree solely in Political Sciences, Lin has learned more and had a better understanding of interdisciplinary viewpoints, which helps create more possibilities for his academic career.

Also in the College of Social Sciences, the Institute of Education established the dual doctoral degree program with the Department of Educational Science at UGent. "It generally takes around four years to get a doctoral degree in Taiwan. So, spending five years to earn two doctoral degrees is quite a good investment," commented Professor Li-Ming Chen of the Institute. Based on his observation, the graduates of the dual degree program have shown outstanding academic performances. "It proves that students get to acquire excellent research ability under the bilateral academic training. The cooperation between the two sides is a successful model."

Like Dr. Hsien-Ming Lin, Dr. Yu-Hsien Sung is the first to receive a dual doctoral degree from his Institute. It also took him quite some time to adapt to the differences in doctoral training and the different supervisory styles of professors and try to adjust his research methods and approaches accordingly. After overcoming these challenges, he realized the dual degree program could actually create added value to his research. While his Belgian supervisor's research focuses on the functions of the teacher training system, which offers a macrocosm viewpoint, his Taiwanese supervisor concentrates on the discussion of variables and phenomena in education with a microcosm viewpoint. When dealing with these two viewpoints, he began contemplating how to perceive things from different viewpoints. "I believe this is the advantage of a dual degree program, through which students can learn not only the research contexts and approaches between the East and the West, but the focus of teacher training in the west and their research trends," Sung added. Recalling his experiences at NSYSU and UGent, Sung said the dual doctoral degree program had brought him a whole new horizon, which cannot be found through a single Ph.D. program, either domestic or international. "Through the domestic doctoral training, I learned the academic trends and training approaches in the domestic context. In Belgium, I learned their academic concepts and viewpoints." The bilateral and cross-national dual degree program definitely adds more value to the doctoral training process.

In addition to the advantages mentioned above, one of the best things about the dual degree program is that doctoral students can spend relatively less time and money to receive both domestic and overseas Doctorates. However, as the dual degree program does not change any graduation requirements on either side, students must put double efforts to meet the requirements of both sides and manage to graduate in a relatively tight schedule. Dr. Hsien-Ming Lin pointed out based on his experience, according to the dual degree contract, the doctoral students in this program only have to complete one dissertation under the guidance of supervising Professors from both sides, but otherwise, the requirements they have to fulfill are all the same with the ones for usual doctoral students. Dr. Sung said, "while doctoral students usually fulfill the graduation requirements within 4-5 years, within the same time frame, double-degree students must satisfy all the requirements of both universities to receive two degrees, creating huge time pressure and challenges." However, those willing to accept such challenges can surely develop broader horizons on international research and acquire solid research ability, which are very valuable to their academic career. As Professor Dachi Liao and Professor Li-Ming Chen witnessed the excellent academic performances of their students, the two professors encouraged new students to accept the challenges to achieve higher academic goals.

Reference:
Hsien-Ming Lin, Yu-Hsien Sung, Li-Chun Wang (2020). Multidimensional meanings of studying abroad: international mobility experiences of Taiwanese joint dual doctoral program students in Belgium. Journal of Research in Education Sciences, 65(4), 65-103.doi: 10.6209/JORIES.202012_65(4).0003

Note:
Dr. Hsien-Ming Lin and Dr. Yu-Hsien Sung received their Ph.D. degrees from NSYSU and KU Leuven/UGent in 2020.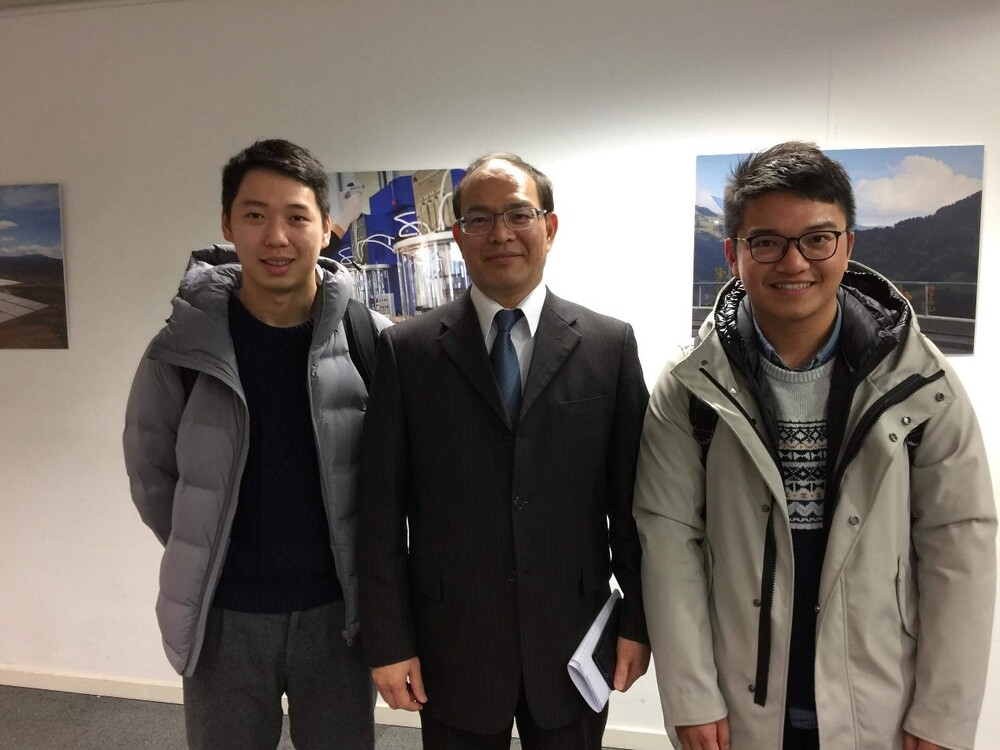 Hsien-Ming Lin, Yu-Hsien Sung and Dr. Ho-jen Tseng, former Representative of Taipei Representative Office in the European Union and Belgium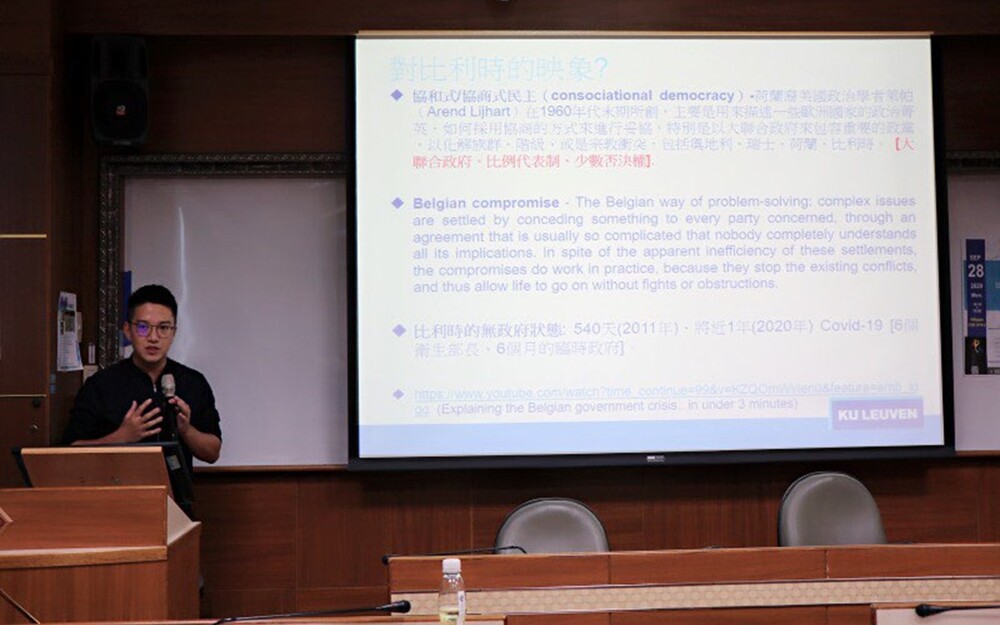 Hsien-Ming Lin introduced the government and politics in Belgium at IPS, NSYSU.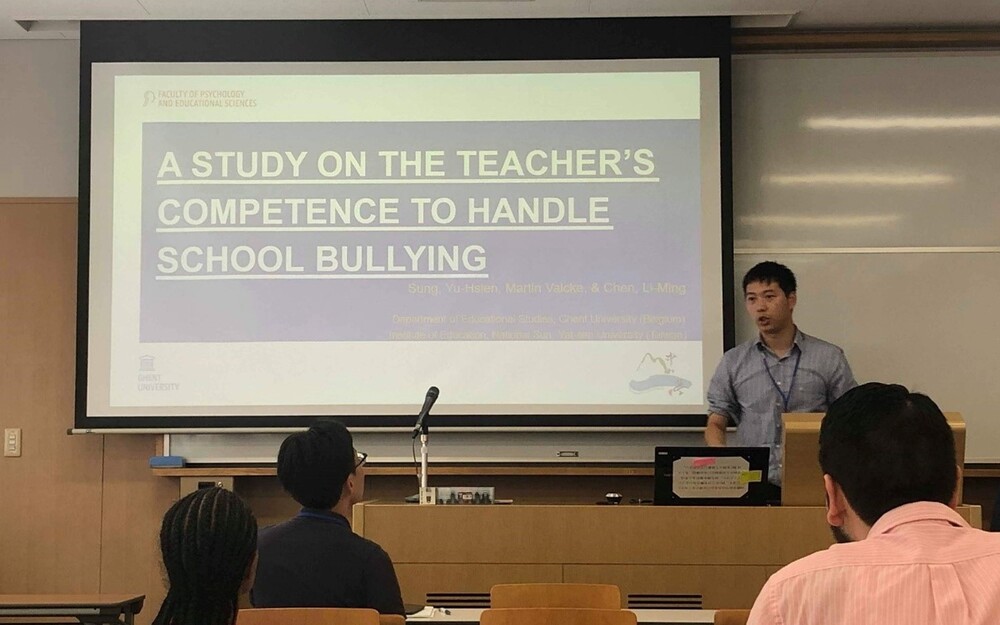 Yu-Hsien Sung participated in WERA annual focal meeting and gave his paper presentation.