Distinguished Foreign Alumni of Taiwan|Case Submission Form
National Taiwan University of Science and Technology-Anastasia Mimosa
National Taiwan University of Science and Technology-Anastasia Mimosa
Anastasia Mimosa | Indonesia
Architect Designer Anastasia Mimosa, from Surabaya, Indonesia joined the Taiwan Tech Department of Architecture in 2017 to study for a Master's Degree. She graduated in 2019, and has since then worked for Sinotech Engineering Consultants Co., Ltd. in Taipei.

Sinotech is an international one-stop service construction company with multidisciplinary departments. I am working in the design division of the architecture department. We are handling large and city-scale of public and private projects in different phases, such as BIM (Building Information Modelling), urban design review reports, preparing documents for building licenses and so on. We are cooperating with contractors, governmental agencies, and partner companies mostly in Taiwan, but we also did some joint projects with other engineering firms from Korea, Hong Kong, and Germany.

Taiwan is a safe and peaceful country with excellent universities

I came to Taiwan for the first time ten years ago, on a private visit with my family. I liked the calm, orderly and peaceful atmosphere, and when I was about to decide on where to do my Master's, Taiwan topped my list of choices. Also, most importantly, Taiwan universities have a good academic reputation, and they are very open for international students.

In Taiwan Tech's graduate programs, there are almost 50% international students from many different countries. That is a real asset, and I hope that Taiwan Tech can maintain its status as an international hub in the future.

Taiwan Tech offers rare specialization in architectural acoustics

And why did I choose Taiwan Tech? When I checked out the Department of Architecture, I found Professor Shin-Jyun Tsaih who is a specialist in architectural acoustics. This is quite rare, and it fitted very well with my undergraduate studies. Prof Tsaih was an excellent advisor, she encouraged me, and gave me many new ideas and perspectives. For my Master's thesis, I had to learn a new software, which was very challenging.

I am very grateful for receiving the Robert Bradford Newman Student Medal in 2019 for my thesis. Prof Tsaih nominated me for this award, which is issued by a US-based organization which supports education and excellence in architectural acoustics.

"My advice for international graduates: Learn Chinese, be confident"
My most important piece of advice for international graduate students would be: Learn Chinese! Knowing a foreign language is always a form of empowerment, it will help you in your professional and daily life. At my workplace, 90% of the conversation is in Chinese. Most jobs are advertised on Chinese-language platforms like www.104.com, that's actually how I found my job with Sinotech. In job-interviews, it will be helpful if you can speak basic Chinese. Not all companies use English that much, this limits the conversation. And Chinese is one of the most spoken languages in the world, so knowing Chinese is a real asset wherever you live and work.

It goes without saying that you need to prepare your resume carefully, but it is most important to be confident and believe in yourself. Don't compare yourself with others. I think that many international students are lacking confidence, which is an impediment for their careers.

"I am planning to start my own architectural company in Indonesia"

I have planned to work with Sinotech for three to five years, and then return to Indonesia to start my own architecture company. I learnt a lot with Sinotech, especially through the big public infrastructure projects, like the MRT construction. I am convinced that there will be a lot of public infrastructure projects in Indonesia in the future. I'm eager to contribute to my country's development with what I have learnt in Taiwan.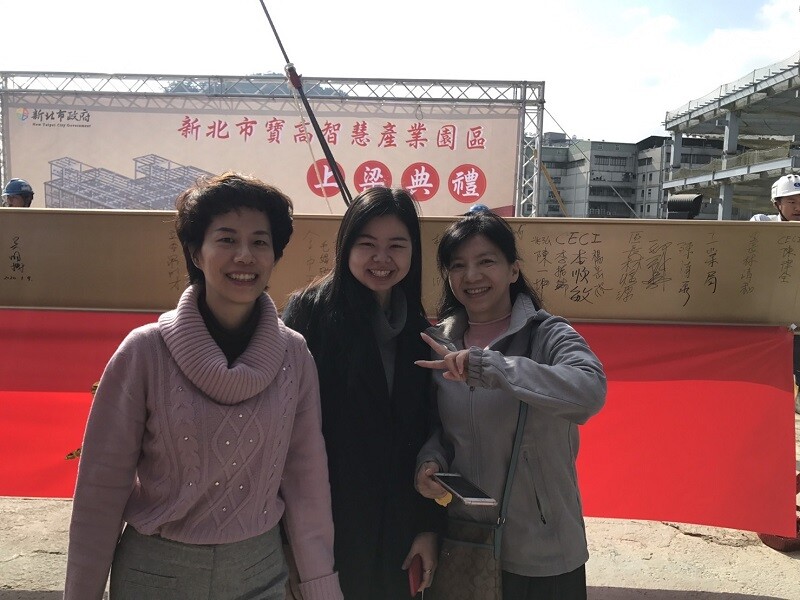 Anastasia (centre) with co-workers attending a beam-raising Ceremony for the Baogao Smart Industrial Park.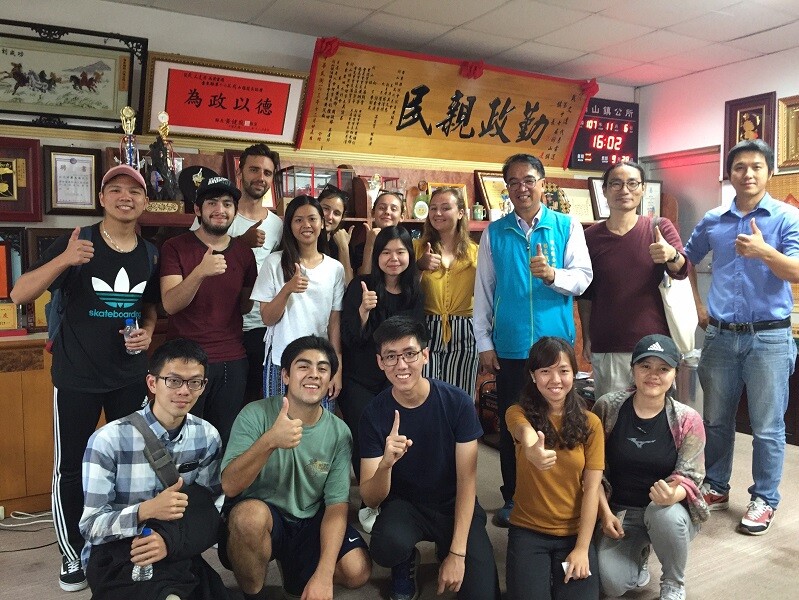 Anastasia on a field trip on " Taiwanese Architecture".

Anastasia with her family.