BCCIE Signs Memorandum of Agreement with FICHET and Renews Commitment to Strengthen Academic Exchange Opportunities
BCCIE Signs Memorandum of Agreement with FICHET and Renews Commitment to Strengthen Academic Exchange Opportunities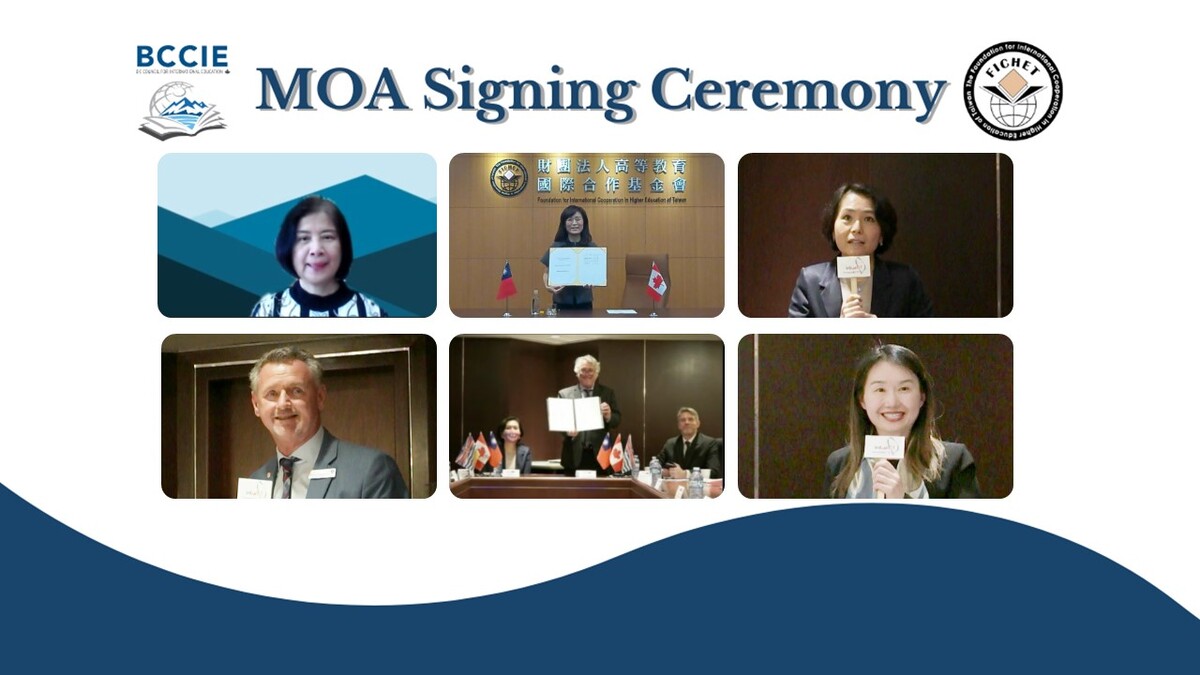 2022-03-15
On March 15, British Columbia Council for International Education (BCCIE) and the Foundation for International Cooperation in Higher Education of Taiwan (FICHET) signed a Memorandum of Agreement (MOA) at a formal ceremony held online and Simon Fraser University – Harbour Centre in downtown Vancouver.
The signing was witnessed by the Honourable Anne Kang, British Columbia's Minister of Advanced Education and Skills Training, as well as representatives from BC and Taiwan, including:
Dr. Michel Tarko, Board Chair, BCCIE and President & CEO, Justice Institute of BC
Dr. Randall Martin, Executive Director, BCCIE
Ms. Li-Hsin Angel Liu, Director General, Taipei Economic and Cultural Office (TECO) in Vancouver
Dr. Nicole Yen-Yi Lee, Director General of the Department of International and Cross-strait Education, Ministry of Education, Taiwan
Dr. Huey-Jen Jenny Su, Chairperson, FICHET
The MOA renews a long-standing official partnership between BCCIE and FICHET that extends back to 2015. Through the cooperative agreement, BCCIE and FICHET have endeavoured to establish and advance academic collaborations between institutions in BC and Taiwan. Scholarship funding opportunities provided by both organizations have benefited numerous students and faculty, encouraged mobilization between the two regions, and enhanced the institutional relationships between the Province of BC and Taiwan.
Said the Honourable Anne Kang:
"I recognize the value of international education to BC and its contribution to our diversity. As students travel to new places, meet different people, and encounter new ideas, they bring together skills, talents, and cultural perspectives to help us build a diverse society and stronger economy. I know this partnership will open doors to new opportunities for our students."
"Canada is a long-term and important educational partner to Taiwan," said Ms. Li-Hsin Angel Liu, Director General of TECO. "The signing of the Memorandum of Agreement between FICHET and BCCIE will help to activate the willingness of both sides to cooperate in academic and technical education fields, and we hope to cultivate mutually beneficial relationships through such a platform. The new generation with international vision and cross-cultural communication skills will enhance the international competitiveness of Taiwan's higher education sector. Our office will do our due diligence to support both organizations in implementing the provisions outlined in the agreement."
"It has been exciting to realize the positive effects of this agreement in promoting higher education exchanges between Taiwan and Canada," said Dr. Randall Martin of BCCIE. "The renewal of the cooperative agreement promises to encourage more BC teachers and students to pursue opportunities for joint research and study with universities in Taiwan."
"BCCIE has been a long-standing partner of FICHET,"said Dr. Huey-Jen Jenny Su, Chairperson of FICHET."Since the official signing of the Academic Cooperation Agreement in 2015, BCCIE and FICHET have jointly pursued the goals that were committed to promote various engagement and cooperation in the areas of learning, teaching and research. I believe the renewal of our agreement will further strengthen the collaboration between our two organizations."
About BCCIE:
BCCIE is a provincial Crown corporation that supports the internationalization efforts of BC's public and independent K-12 schools, public and private colleges and universities and language schools.
Learn More